Principles of Calculus Modeling
An Interactive Approach
Donald Kreider, Dwight Lahr, and Susan Diesel
How to log in to WebWorK to get the exercises online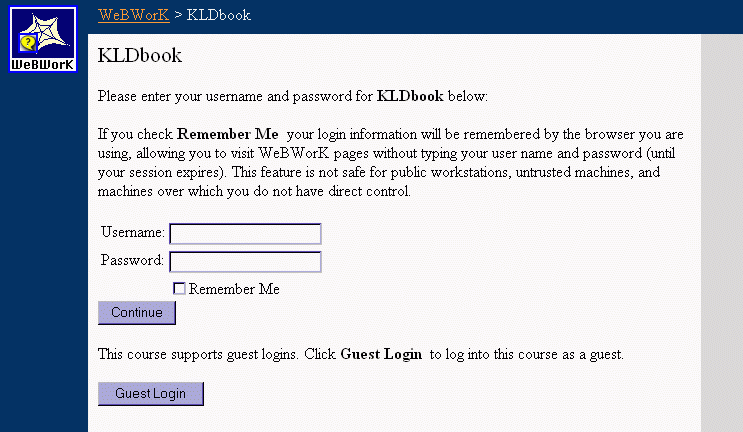 Anyone can get the complete list of problems for each section of the book
Pictured above is the WeBWorK login page for the textbook problem sets. Click Guest Login to log in as a practice user. There are multiple practice user logins; each will show you a different version of a WeBWorK problem set. Go to http://webwork.dartmouth.edu/webwork2/KLDbook/ to log in.
Once you have logged in, you can get a printable version of the problem set in PDF or PostScript format, or you can begin working the problems online. WeBWorK will tell you if you get the correct answer, or not, and you can try a problem as many times as you please.
The exercises for, say, Section 1.1 of the textbook Principles of Calculus Modeling by Kreider and Lahr corresponds to Set unit101 in WeBWorK. Similarly, Section 3.14 is Set unit314. Click on the set you want to work on. A set with status "closed" merely means that WeBWorK will not retain your answers after you log out. You can still work on these problems and WebWorK will tell you when your answers are correct.
Dartmouth Math 3 students should get their daily homework exercises from the class website
Math 3 students should use their personal usernames and passwords and sign in to WeBWorK login page. When you log in with your personal username you will find the homework chosen from the above textbook problems and assigned for each day of the term. A record will be kept of your scores so that a homework grade can be determined.
As with the textbook problems, you may get extra practice on the homework by signing in as a guest user to see additional versions of problems.
---
You may want to consult the Frequently Asked Questions about WeBWorK.
You may want to view the list of mathematical symbols and functions available in WebWorK http://webwork.math.rochester.edu/docs/docs/pglanguage/availableFunctions.html.
---


Copyright ©2005 by Donald L. Kreider, C. Dwight Lahr, Susan J. Diesel