The Mathematics Department was spread among three buildings that were old, small, and technologically out-of-date. Kemeny Hall has reunited the department and provided much-needed classrooms, labs, and discussion space for student-faculty collaboration.

Kemeny Hall is located on North Main Street above Baker-Berry Library and Carson Hall, contiguous with the new Haldeman Center. Haldeman Center is home to the Dickey Center for International Understanding, the Ethics Institute, and the Fannie and Alan Leslie Center for the Humanities.



Visit the Math Department's website showing photos of Kemeny Hall and Haldeman Center construction.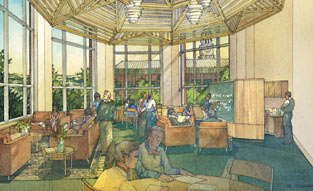 | | |
| --- | --- |
| Total project cost | $26 million |
| Square feet (approx.) | 61,000 |
| Classrooms | 6 |
| Faculty offices | 33 |
| Laboratories | 10 |
View the complete list of Kemeny Hall recognition opportunities on the Campaign for the Dartmouth Experience website.